We do not give you just rooms to stay. We give you an environment so you can experience the best while on a holiday with us. Walk into our hotel and enjoy a refreshing, rejuvenating, day-off with us.
Day Trip
We will schedule the Trips per Day .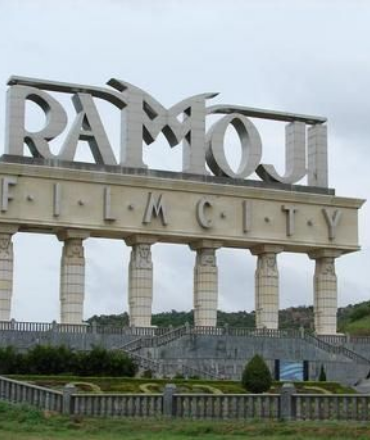 Ramoji Film City
Since 1991, Ramoji Film City has been alluring tourists from every corner of the country. One of the largest film studios in the world it has the capacity to house almost 50 film units within a given point of time. It is also listed in Guinness Book of World Records as well. Spread over 2500 acres, it is situated about 30 km away from Hyderabad. Its brilliant architecture and sound technical facilities make it suitable for all the pre and post production of a film. Its various sets like London Street, Hollywood sign, Japanese gardens, etc; landscapes; vintage buses; and many other features such as Filmi Duniya, Action, Interactive Entertainment, etc, makes a trip to Ramoji memorable trip.
Recommended duration: 45 minutes
Hussain Sagar Lake
Hussain Sagar (alternatively referred to as Tank Bund) is a heart-shaped lake in Hyderabad, Telangana, built by Ibrahim Quli Qutb Shah in 1563. It is spread across an area of 5.7 square kilometres (2.2 sq mi) and is fed by the River Musi. A large monolithic statue of the Gautama Buddha, erected in 1992, stands on Gibraltar Rock in the middle of the lake. It also separates the city centre of Hyderabad from its neighborhood Secunderabad. The maximum depth of the lake is 32 feet (9.8 m). Landmarks and sightseeing attractions around Hussain Sagar lake are Buddha statue, Lumbini Park, Birla Mandir, Sanjeevaiah Park, Prasad's IMAX, Snow World, NTR Gardens
Recommended duration:  45minutes
Nagarjunasagar
World's largest masonry dam protected with 26 gates measuring 124.663m in height , Nagarjunasagar Dam located in Nalgonda District is built across River Krishna.The dam has a storage capacity of nearly 11,472 million cubic meters with an irrigation capacity for 9.81 lac acres of land. The dam measure 150m tall and 16 kms in length while also being a major tourist attraction. In fact, it is among the first irrigation projects started by Indian Government as an element of Green Revolution. Today, apart from offering not only irrigation facility, it is also a source of hydro-electricity. The dam attracts a huge number of tourists owing to its great magnificence as well as the cover of dense green surrounding it offering an absolutely captivating view.
Recommended duration:  3 hours
Ananthagiri Hills
Ananthagiri Hills is located 10 km from Vikarabad, Ranga Reddy district, Telangana, India. The hills are the main water source for Osmansagar and Himayathsagar. It is considered as one of the dense forests in Telangana region. Ananthagiri has a famous temple located in this forested region, which is also the birthplace of Musi River. It is situated at a distance of about 90 km from Hyderabad City and a popular destination for trekking and for those who love adventure. It is also considered one of the earliest human habitat areas in South India. Ancient caves, medieval fort like structures and ancient temple shows the history of the area. It is a much sought after place, which is covered, by red soil and ideal for some adventure sports. Visitors rate it as one of most beautiful places for a weekend get away from Hyderabad. The road is in good condition, which takes you into the dense forests with beautiful trees and streams all along the way. Near the lighthouse if you take a 2 km diversion, you can reach the topmost point in the Vikarabad region, which offers an excellent view point. A trip to Vikarabad on a cloudy day with a little drizzle is simply an unforgettable experience and it is a poor man's Ooty in summer.
Recommended duration:  2 hours
Chilkur
Situated at Gandipet which is 20 km from the city of Hyderabad, Ocean Park is an amusement park that promises each and every one a day full of entertainment and fun. One of the first theme parks that have been opened in the city, Ocean Park is spread across a huge area with two sections; one for water sports and another solely for amusement games.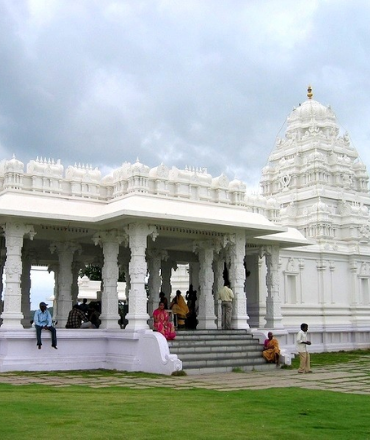 Sanghi Temple
Sanghi Temple Hyderabad: Situated in Sanghi Nagar which is 25 km away from Hyderabad city, Sanghi temple stands beautifully on the hillock 'Paramanand Giri'. Built in the Chola-Chalukya style of architecture, the temple is a place worth visiting. This temple was built in the year of 1991 which was completed in a just 18 months! And since then it has been attracting tourists from everywhere. Sanghi Temple in Hyderabad captivates everyone with its architectural beauty as much as with its religious associations. Sanghi Temple, one of the popular Hyderabad sightseeing places, is also quite famous location for various movie shoots, resulting in its increased popularity. Although the main deity of the temple is Lord Venkateshwara, one can find other important Hindu Gods as well. The idol of Lord Venkateswara is said to be the replica of the one that is in Tirumala.
Recommended duration:  3 hours
Bhongir fort
Many of India's past heritage structure have lost their charm with changes in time but to this day they still represent magnificent pieces of architecture. The Bhongir fort in Nalgonda district of Telangana is one such structure. It is a massive impregnable structure erected by Chalukya ruler, Tribhuvanamalla Vikramaditya VI and the fort is named after him. Bhongir fort's history is traced back to the 10th century. Initially it was called Tribhuvanagiri, renamed later as Bhuvanagiri and eventually it has become Bhongir Fort. The town of Bhuvanagiri/Bhongir derives its name from this splendid fort, which stands on a monolithic rock. It is spread across an impressive area of 50 acres at a height of around 500 feet over the top an enormous rock formation. It resembles an unusual egg-shape structure along with two main entry points inturn covered with huge rocks. The fort that is encircled in a moat has underground chamber that is believed to be connect Golconda fort located 50 km away. The fort also witnessed a glorious period under queen Rudramadevi and her grandson Prataparudra's rule.
Recommended duration: 2 hours
Plan an Unforgettable Experience with
JP TRAVELS today.