One such city that is famous for its historical places is Hyderabad. Popularly referred to as the 'City of Nizams', Hyderabad has a rich historical legacy and is replete with historical places that provide magnificent memories of the bygone era. That said, in this post, we list some of the most popular historical monuments in Hyderabad that give you a reason to visit the city.
Historical Places
Historical places have a unique charm of their own. They not only provide a glimpse into the rich historical past, but they also represent the great achievements made in art and architecture. And the best part is that there is no dearth of such places in India.
Charminar
The Charminar is as much the signature of Hyderabad as the Taj Mahal is of Agra or the Eiffel Tower is of Paris. Mohammed Quli Qutb Shah, the founder of Hyderabad, built Charminar in 1591 at the centre of the original city layout. It is said to be built as a charm to ward off a deadly epidemic raging at that time. Four graceful minarets soar to a height of 48.7 m above the ground.
Charminar has 45 prayer spaces and a mosque in it. Visitors can view the architectural splendour inside the Charminar. The monument is illuminated in the evenings and a pedestrianisation project around the monument is under implementation.
Location: Char Kaman, Ghansi Bazaar, Hyderabad
Timings: 09:30 am to 05:30 pm; every day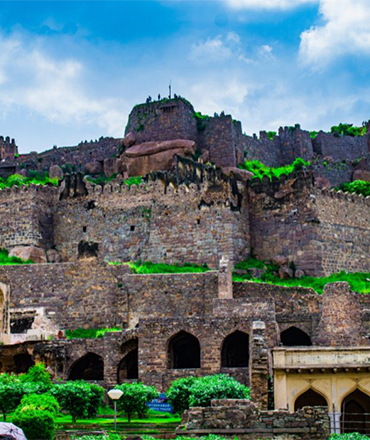 Golconda Fort
Formerly known as Mankal, Golconda fort was built by Kakatiya Kings and completed by Rani Rudrama and her successor Prataparudra. However, the structure that we see today was renovated by the Sultan Quli Qutb-ul-Mulk from Qutb Shahi dynasty, who chose Golconda to be the center of his governance. The fort is an engineering marvel and is considered one of the best Hyderabad tourist places. A hand clap at a certain place below the entrance of the dome of Fateh Darwaza echoes and can be heard at Bala Hissar pavilion, which is the highest point of the fort and is almost a kilometer away! Also, the fort has eight gateways, several temples, mosques, stables, royal chambers, and four moveable bridges. The magnificent fort is built on a granite hill and once stored the world-famous Koh-i-Noor, Hope diamond, and Daria-i-Noor. It overlooks the city and is a must visit place for magnificent architecture and historical significance.
Location: Fort Rd, Toli Chowki, Hyderabad
Timings: 09:30 am to 04:30 pm; every day except Friday
Qutub Shahi Tombs
One of the oldest monuments in the city, Qutub Shahi Tombs were built by Sultan Quli. The tombs are located in Ibrahim Bagh and are approximately 850 meters away from Banjara Darwaza of Golconda fort. These complexes are either one story or two storied and have mosques and tombs of kings of Qutub Shahi Dynasty. What's interesting is that an inscribed sarcophagus covers the actual burial vault at the center of each tomb. The domes originally had beautiful blue-green tile work, but only a few pieces remain as evidence to this fact. The structure of the tombs is influenced by Persian, Pathan, Deccan and Hindu styles.
Location : Fort Rd, Toli Chowki, Hyderabad
Timings   : 09:30 am to 04:30 pm : every day except Friday
Chowmahalla Palace, Hyderabad
Built in the 18th century, Chowmahalla Palace was the center of governance for the Asaf Jahi dynasty and later served as the residence for the Nizams of Hyderabad. All the ceremonial functions were held at the palace. The vast structure has two courtyards, a grand darbar hall called Khilwat along with fountains, and gardens covering 12 acres of land. The Southern courtyard is the oldest part of the palace and has four smaller palaces Afzal Mahal, Aftab Mahal, Tahniyat Mahal, and Mahtab Mahal. The Northern courtyard, which once housed the administrative wing and Shishe-Alat, has a long corridor with rooms facing the central fountain and pool. It is an impressive structure with ornate stucco work, and the darbar hall has a marble platform that once used to be the royal seat.
Location: Khilwat, Motigalli, Hyderabad
Timings: 10:00 am to 05:00 pm; every day except Friday.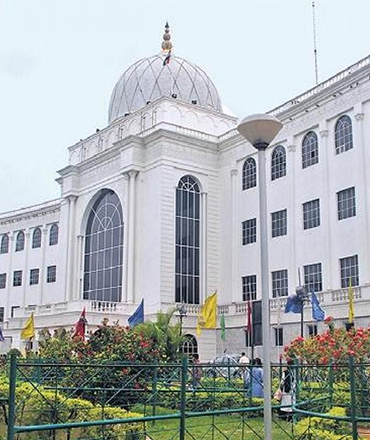 Salar Jung Museum, Hyderabad
Heaven for art lovers, Salar Jung Museum, is one of the largest museums in the world and one of the three National museums in India. It boasts of items collected from Japan, France, Germany, Nepal, China, Burma, Persia, Egypt, Europe, and North America. The museum has carvings, sculptures, textiles, paintings, clocks, carpets, weaponry, manuscripts, ceramics, furniture, and scriptures. There are a total of 38 galleries – 20 galleries on the ground floor and 18 on the first floor. Every subject has been displayed in a separate space. Some of the notable items on display are Aurangzeb's sword, Veiled Rebecca by Giovanni Benzoni, Quran written with Gold and silver, Tipu Sultan's wardrobe, Seated Lady by M F Hussain and many more. The museum is named after the artifact collector Salar Jung Family
Location: Salar Jung Road, Naya Pul, Hyderabad
Timings: 10:00 am to 05:00 pm; every day except Friday.
Taramati Baradari, Hyderabad
Situated on a hilltop, Taramati Baradari is believed to be built in honor of Abdullah Qutb Shah's favorite courtesan Taramati. It is a Persian-style constructed garden and a historical Sarai having 12 doorways. It was considered an engineering genius because the doors allowed cross ventilation, which was something unique at that point in time. Many stories suggest that the structure was built so that Abdullah Qutb Shah could hear the enchanting voice as Taramati sang for the travelers staying at the Sarai, while another tale hints that two dancing sisters, Taramati and Premamati would dance on the ropes tied between the balcony of the king and the Sarai.
Location: Ramdev Guda, Ibrahim Bagh, Hyderabad
Timings: 11:00 am to 06:00 pm; every day.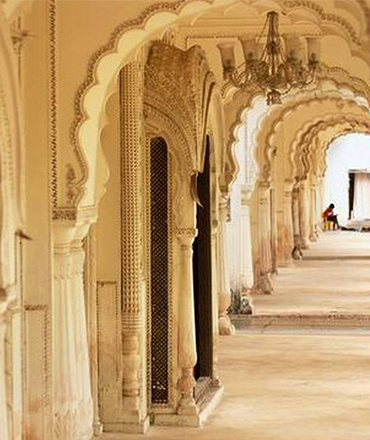 Paigah Tombs, Hyderabad
Spread across an area of 30-40 acres, Paigah Tombs are a marvelous piece of artistry on marble. These tombs belong to the noble families of Paigah who were loyal to Nizams and served as state's people and generals. The tombs are a major architectural attraction due to the excellent craftsmanship, beautifully inlaid marble carvings and mosaic tile work. The ornamental-carved screens and canopies, embellished floral motifs on marble and stunning stucco work have the influence of Mughal, Persian, Rajputana, and Asaf Jahi architecture. Each tomb has a unique design; an abundance of latticework and geometric pattern is one-of-a-kind which cannot be found anywhere else in the world.
Location: Santosh Nagar, Kanchan Bagh, Hyderabad
Timings: 10:00 am to 05:00 pm; every day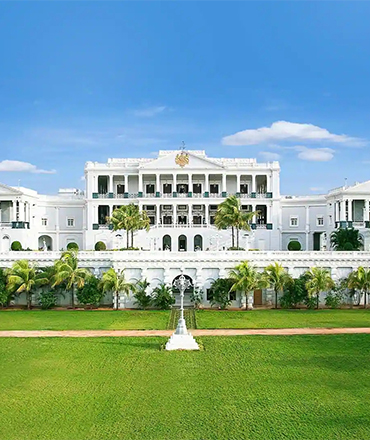 Falaknuma Palace
Standing tall on a 2000-foot high hill, Falaknuma Palace meaning "Mirror of the Sky", was built by Nawab Sir Vikar-ul-Umra. The palace spreads across 32 acres of land and was constructed with Italian marble. Though the construction started in 1884, it took almost 9 years to complete the structure. Built in the shape of a scorpion, the palace has 220 rooms and 22 halls. The stained-glass windows, frescoes-decorated ceilings, magnificent Jade collection, Venetian chandeliers and statues, and paintings give a peek into the luxurious life of Nizams.
Location: Engine Bowli, Falaknuma, Hyderabad
Timings: Saturday and Sunday 4:00 pm – 5:30 pm only through Telangana Tourism – NIZAM PALACES TOUR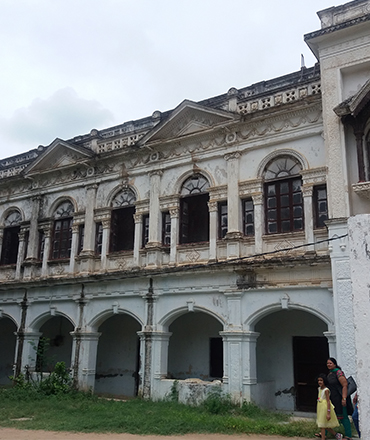 Purani Haveli
Also known as Haveli Khadeem, Purani Haveli was the official residence of the Nizams. The palace has a 240-foot long wooden chamber with 150 walk-in closets, which makes it the world's largest wardrobe. It is a U-shaped complex housing a single-storied building at the center that is influenced by European architecture. The Haveli has a museum that consists of the marvelous collection of keepsakes, presents, souvenirs, miniatures presented to Mir Mehboob Ali Khan, sixth Nizam of Hyderabad.
Location: Hyderabad, Telangana, Hyderabad
Timings: 10:30 am to 05:00 pm; every day except Fridays.
Plan an Unforgettable Experience with
JP Travels today.