Must See Places in Hyderabad
We do not give you just rooms to stay. We give you an environment so you can experience the best while on a holiday with us. Walk into our hotel and enjoy a refreshing, rejuvenating, day-off with us.
Must See Places in Hyderabad
There are some pages in Hyderabad , which are must see places.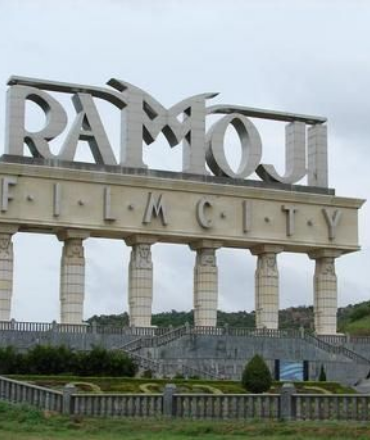 Ramoji Film City
Since 1991, Ramoji Film City has been alluring tourists from every corner of the country. One of the largest film studios in the world it has the capacity to house almost 50 film units within a given point of time.
It is also listed in Guinness Book of World Records as well. Spread over 2500 acres, it is situated about 30 km away from Hyderabad. Its brilliant architecture and sound technical facilities make it suitable for all the pre and post production of a film.
Its various sets like London Street, Hollywood sign, Japanese gardens, etc; landscapes; vintage buses; and many other features such as Filmi Duniya, Action, Interactive Entertainment, etc, makes a trip to Ramoji memorable.
Recommended Duration:

4 hours
Charminar
The Charminar is as much the signature of Hyderabad as the Taj Mahal is of Agra or the Eiffel Tower is of Paris. Mohammed Quli Qutb Shah, the founder of Hyderabad, built Charminar in 1591 at the centre of the original city layout. It is said to be built as a charm to ward off a deadly epidemic raging at that time. Four graceful minarets soar to a height of 48.7 m above the ground. Charminar has 45 prayer spaces and a mosque in it. Visitors can view the architectural splendour inside the Charminar. The monument is illuminated in the evenings and a pedestrianisation project around the monument is under implementation.


Recommended Duration:

45 minutes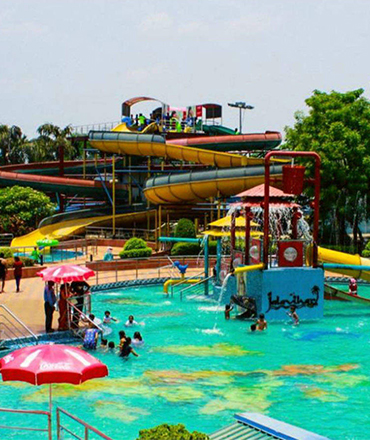 Jala Vihar
Located at the Necklace Road, Jalavihar, family entertainment park, enjoys a prime location. Suitable for both kids and adults, it offers an amazing range of water activities. Some of these are River ride, Tilt bucket, Mushroom Umbrella, Family slide, Mini aqua trailers, Float slide, Pendulum, etc. Not just water rides, families can have fun filled moments at games like Mini train, Super-Jet, Battery bikes, Mini Coarsely, Battery cars, Mini rainbow wheel, Air hockey, Water shooter, Basketball, Bungy Trampoline, etc. The party zone here is perfect for all kinds of family functions. It also houses an amphitheatre and the Aesthetic Vedhika.


Recommended Duration:

2 Hours
Hussain Sagar Lake
Hussain Sagar (alternatively referred to as Tank Bund) is a heart-shaped lake in Hyderabad, Telangana, built by Ibrahim Quli Qutb Shah in 1563. It is spread across an area of 5.7 square kilometres (2.2 sq mi) and is fed by the River Musi. A large monolithic statue of the Gautama Buddha, erected in 1992, stands on Gibraltar Rock in the middle of the lake. It also separates the city centre of Hyderabad from its neighborhood Secunderabad. The maximum depth of the lake is 32 feet (9.8 m).
Landmarks and sightseeing attractions around Hussain Sagar lake:
Buddha statue
Lumbini Park
Birla Mandir
Sanjeevaiah Park
Prasad's IMAX
Snow World
NTR Garden
Recommended Duration: 45 Minutes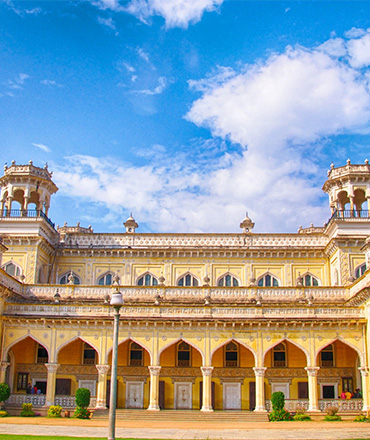 Chowmahalla Palace
Chowmahalla Palace, with literal meaning of 'four palaces' in Urdu language was built in the 18th century. It was during the reign of fifth Nizam, Afzar-ud-Daulah, Asaf Jav V, from 1857 to 1869, that the palace was completed. Initially spread across an area of 45 acres, the palace now covers 12 acres of land. The palace has two courtyards – the northern courtyard and the southern courtyard. The southern courtyard has four palaces which are Afzal Mahal, Tahniyat Mahal, Mahtab Mahal, and Aftab Mahal. Out of these, Aftab Mahal is the biggest of all, with two storeys. Khilwat Mubarak, the heart of the palace, Clock Tower, Council Hall and Roshan Bungalow are other worth visiting sections of it.It has been opened for public viewing since 2005.


Recommended Duration:

2 Hours
Statue of Equality
The Statue of Equality, also referred to as the Ramanuja statue, is a statue of the 11th-century vaishnavaite Ramanuja, located on the premises of the Chinna Jeeyar Trust at Muchintal, Hyderabad. It is the second tallest sitting statue in the world. The project of building the statue was conceptualised by the trust to commemorate 1000 years since Ramanuja's birth Costing an estimated ₹1,000 crore (US$130 million), the project was paid for through the donations of devotees in a major part. The base building has a meditation hall where a 54 inches (1.4 m) statue of Ramunuja made of 120 kg of gold, representing the years he lived, is installed. 108 Divyadesams (model temples), built in stone, surround the statue. The base building hosts a Vedic digital library, research centre, ancient Indian texts, theatre and a gallery. Ramanuja's works are presented in the gallery.


Recommended Duration:

2 hours
Birla Planetarium
Inaugurated by the late Sri N.T. Rama Rao in 1998, dome shaped Birla Planetarium is situated in the heart of the city, at Naubat Pahad. Developed with the technical help from Japan, planetarium offers four sections, each offering a unique opportunity to explore the unknown. Interactive science centre, Window on Science, Archaeology Center and the Nirmala Birla Art Gallery and Dinosaurium are the four section of the planetarium. Sky show, which is conducted every day, is one of its most attractive features. The Section 'Window on Science' is another popular feature. It is open every day, except the last Thursday of every month.


Recommended Duration:

2 Hours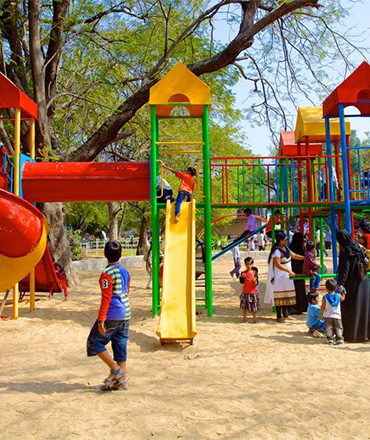 Nehru Zoo Park
Opened to public in 1963, Nehru Zoological Park is also located near the near Mir Alam Tank of Hyderabad. Boasting of about 1,500 species of birds, animals and reptiles this largest zoo in India is run by the Forest department, Government of Andhra Pradesh. With a vast area of about 380 acres, it is quite popular as a picnic spot. The history museum here also attracts many visitors. When here, you can choose from a variety of safaris and treat yourself with a few adventurous moments. Bear Safari, Tiger Safari, Lion Safari, and Butterfly Safari are available here for the visitors.


Recommended Duration:

3 Hours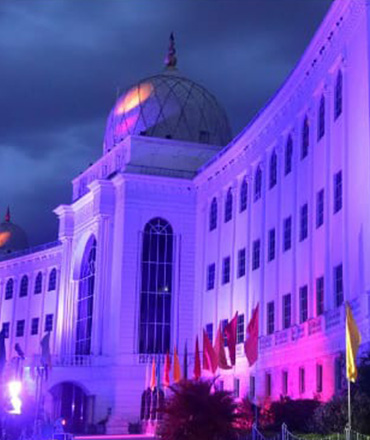 Salar Jung Museum
At the banks of Musi River, Salar Jung Museum is located. With an impressive collection of 43000 art objects, 9000 manuscripts and 47000 printed books, it is considered to be one of the biggest one-man collections of the world. This museum has 38 galleries with 20 galleries in 1st floor while the rest 18 galleries on the 2nd floor. In 1951, it was opened to public while in 1968 it was shifted to its current building. The artifacts of the museums are primarily collected by Mir Yousuf Ali Khan (Salar Jung III) and Nawab Turab Ali Khan (Salar Jung I) along with a few of his descendants.


Recommended Duration:

2 Hours
Plan an Unforgettable Experience with
JP Travels today.